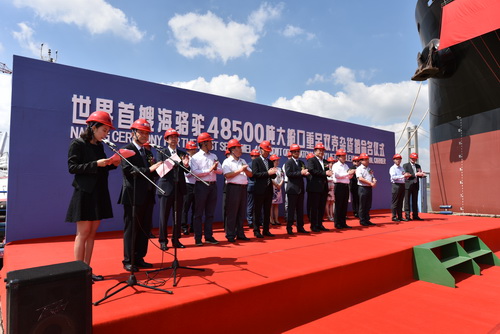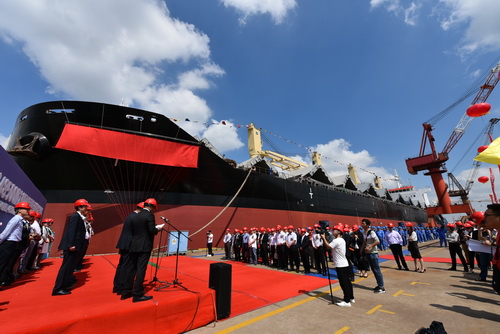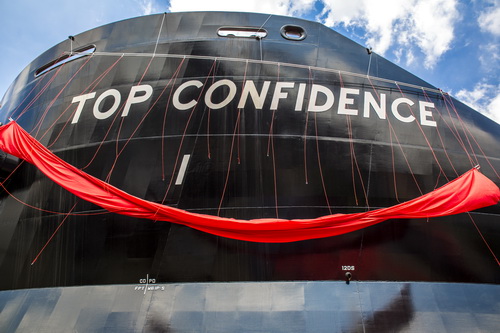 On the morning of 16th September, 2017, the first sea camel type 48500DWT heavy lift general cargo carrier in the world has been named successfully in Jiangsu Zhenjiang Shipyard (Group) Co.,LTD.
The ship is jointly funded by our company andjiangsu sumeida shipping engineering co., LTD.,contracted by zhenjiang shipyard group, and designed by OMT, a world-renowned ship design company in Denmark. The ship has a total length of 189.95 meters, a structural draft of 11.5 meters, a speed of 14 knots, and is listed in the Norwegian classification society (dnv-gl).
This vessel designs a dolabriform bow, it's structure is safely reliable and type of cabin containers is optimized. It can not only transport various bulk cargos, but also target to transport high-speed rails, especially suiting for "The Economic Belt and Silk Road" strategy. Some cargo holds have the special capability of loading 12 compartments of high-speed rail at one time. Meanwhile, equipped with the new type main engine with electronic fuel injection system from Wartsila, this vessel installs a hub vortex absorbed fin in the aft. With the new technology and new concept, such as the oil tank pre-heating technology and setting storing tank for cleaning dirty water at port, the vessel has many significant features of energy saving, green, environmental protection, intelligence, etc., which shows the orientation towards to future development of cargo ships.
There are more than 80 representatives attended the naming ceremony, they are Mr. Sun Xiaonan the Vice Mayor of Jiangsu Zhenjiang Government, Mr. Yan Zhubo the Director of Zhenjiang National Hi-tech District, Mr. Zhang Dong the chairman of Topsheen Shipping Group Limited, Mr.Jin Yongchuan the Vice CEO of SUMEC Group Corporation, Mr.Xu Gang the General Manager of SUMEC Marine Co.,ltd, Mr.Johann the President of DET NORSKE VERITAS Greater China Zone, Mr. Tang Wanming the vice general manager of Odense Maritime Technology Co.,Ltd , Mr. Logan Zhuang the Director of BNP Paribas Hong Kong, Mr.Bart the Director of Manuchar ,Ms. Susanna the Chartering manager of Duferco and so on.